AGED WOOD
Revive the past with floors, walls and furniture, made from centuries-old wood. Reclaimed from its former use and processed into today's flooring, wall covering and furniture.
Arnick Old wood by Schaverij Hattem manufactures wood flooring and more, from old vintage wood. Reclaimed from old, discarded barns and other buildings, mainly from Austria.
Reclaimed wood lends historical character to both residential and commercial projects.
Our most preferred species in stock:
Oak
Barn wood
Elm
Chestnut
Pine
Character and Patina

Harvested centuries ago, the material's character and patina are the result of a long, long life and cannot be dublicated today. Both outside and inside parts of these old beams and planks are use to make modern floors, walls and tables. The outside version is often sun-burnt, making the wood almost as hard as stone.
Old wood, turned into a new life by modern engineering processes, enables us to offer you a wide range of products in which each item is unique and environmentally friendly as well. Our floors, wall covering and tables combine exceptionally well with traditional interiors but also with modern, sleek interiors. It is, in fact, the contrast which creates a unique atmosphere.
We offer:
Solid oak floors, outside en inside
Engineered floor boards with wear layers of 4 to 6mm and consturctianal layers of 12-15mm
Wall covering
Panelling
Ceilings
Furniture
Custom made tables
Our tables of vintage wood deserve highlighting. Available in almost all conceivable forms and sizes. Full wood or combined with steel. Made with crafsmanship and practical skills.
Arnick Old Wood by Schaverij Hattem has both. Whether you wish us to work along your own design or give our artisan a free hand, the result will be a unique table.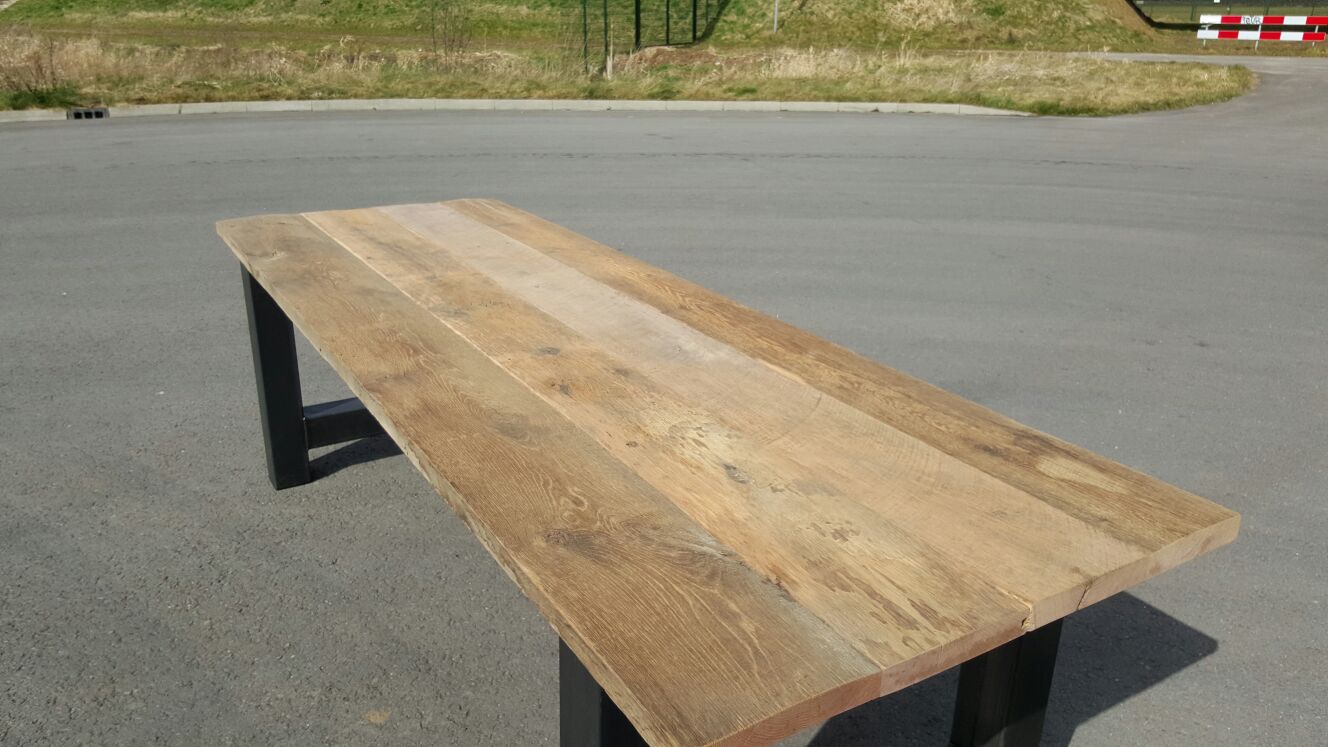 Feel free to:
Ask your questions
Share your ideas
Toghether we'll realise them!
*)Of course our reclaimed wood is kiln-dried and treated for woodworm, beetles and other vermin.
Tags: Oud hout,